When you start traveling down memory lane, its hard to stop. Its easy enough to find many paths to meander down and great sights to take in, thoughts to ponder, questions to wonder, and then more memories to wander.
When I saw Mama Kat's
Writer's Workshop
prompt #2,
"Tell us about a day you were sure you wouldn't get through."
and I knew exactly which trail I wanted to follow next.
I'm sure I gave Mom the "Yea, yea. Okay. Sure." response when it happened to her. But, then Mom found a piece of paper with my name written in Grandma's script & a typed passage on the front and more writing from Grandma on the back about my confirmation. She didn't tell me about it, but simply put it in an envelope & mailed it to me.
Fast forward to an extremely challenging morning with the most extreme kidlet meltdown in public ever. No need to say anything else.
When the kidlets & I returned home and everyone was settled. I walked out to the mailbox, still completely effected by the events of the 'extremely challenging morning' and what do I find, but an envelope hand addressed to me, from Mom.
Upon opening the envelope, I found the little piece of paper with the printed passage & Grandma's script on it. I read it.
(Picture is clickable to enlarge & read!)
As I read, I was reminded to move forward in my day from that moment. The challenging morning was over and I could choose to move forward and try to have a more successful day. It reminded me that as challenging as that morning had been, it was gone and I could choose what I wanted to trade the rest of my day in for.
I put 'A New Day' up on our refrigerator four years ago and there it has stayed. It serves as a daily reminder to me and somewhat recently, even Hubby said that he also often reads it. Hopefully, you can find something positive to take from this as well!
What keeps you moving on your challenging days? Share your keep moving forward mojo!
(I don't know what this is from or who wrote it. If anyone recognizes it, please share with me, so that I may give proper credit!)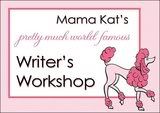 And because I have enjoyed meandering down memory lane so much this week, making it fabulous & I enjoy Minky {moo} (definitely take a stroll through both of these women's blogs...they are a riot!....but after you say 'hi', okay?! :>:>), I'm linking up with her too: