Sushi! There's a whole lotta sushi lovers in this house. Add us up, 1 Me + 1 Husband + 1 Rockin' Awesome Boy + 1 Princess = Option 1: Enjoy Sushi Less Often or Option 2: A Wallet Busting Bill.
None of us particularly like either solution. So, we came up with Option 3: Make Your Own Sushi Night!

I first got out the sushi cookbooks at the beginning of the summer when the kidlets started asking for it more and more and more, hoping to inspire them for some sushi making. But, Hubs & I had never made it before, either.
So, for our first time taking the sushi making for a spin, we decided to go with more run of the mill ingredients. And after a quick look-see at a YouTube video on rolling technique (I'd link ya up here, but Hubs pulled up the video & closed it before I could copy & paste, but an easy peasy search on there will work), we started rolling.



All rolls had an assortment of veggies (carrot, cucumber, red & purple bell peppers) plus a protein. We rolled some up with egg, baked salmon, (mock, aka GFCF) tempura salmon, and salmon skin.


I had never had purple bell peppers before, but I've been seeing them everywhere lately, so I picked up a small one for sushi night. We were surprised to see that it's white on the inside!
Sushi Making Night was worth far more than those pennies and dollars we saved by making it rather than going out. The kidlets helped prep the food, they practiced their chopstick skills, and when looking around the table, it was easy to see that we were all smiling.
Such a fun evening, one that we will definitely do again! Do you like sushi? What's your favorite? Have you made it at home or a party before?
* The only adjustments we had to make to keep the meal gluten & casein free was to make our own 'tempura' batter & use a gluten free Tamari Soy Sauce, which we keep on hand for Asian cooking.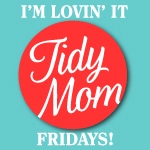 MomTrends
, stop by and see some photos from her summer vacation at Lake Como in Italy!