Give my brother a couple of free airline tickets and he's off...most recently, to Chicago. He emailed me a pic that he took with his iPhone of the
Water Tower.
Actually, he emailed his niece, my daughter, the picture because it reminded him of Rapunzel's tower from the movie Tangled.
She looked at it. Turned her head to the side a bit. And I asked her if it looked her current favorite princess' tower.
She shook her head.
She's an incredibly specific child.
I turned it upside down, so it would be fat at the top, skinny on the bottom - like Rapunzel's tower - to see if that helped.
Still shaking her head. She disappeared for a minute and came back carrying the movie cover to school her ol' Mom on what Rapunzel's tower
really
looks like. When school was over, she told me it's not the tower, but she still liked it.
Truthfully, I think she'd like anything from her favorite uncle!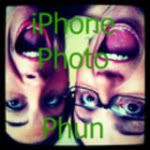 Though I finally have my own fancy schmancy smartphone, I couldn't resist sharing the imaginations of a fun loving uncle and his niece...and it was actually taken with an iPhone making it a perfect chance to finally link up with #iPPP for the first time! :>
Also linking up with some rockin' awesome Wordful/ish Wednesday peeps!
Seven Clown Circus
,
Parenting by Dummies
,
Project Alicia
,
Live and Love...Out Loud
,
Angry Julie Monday